Date:

Thursday, 28 Oct 2021

Time:

7:00 p.m. to 9:00 p.m.

Location:

4th Floor Main Library/online

Department:

Muslim Studies Program
Read Event Details
Muslim Journeys series: Discussion of Nadine Jolie Courtney's All-American Muslim Girl, led by Leila Tarakji (MSU)
Thu. Oct. 28, 7pm HYBRID EVENT
Allie Abraham has it all going for her—she's a straight-A student, with good friends and a close-knit family, and she's dating cute, popular, and sweet Wells Henderson. One problem: Wells's father is Jack Henderson, America's most famous conservative shock jock...and Allie hasn't told Wells that her family is Muslim. It's not like Allie's religion is a secret, exactly. It's just that her parents don't practice and raised her to keep her Islamic heritage to herself. But as Allie witnesses ever-growing Islamophobia in her small town and across the nation, she begins to embrace her faith—studying it, practicing it, and facing hatred and misunderstanding for it. Who is Allie, if she sheds the façade of the "perfect" all-American girl? What does it mean to be a "Good Muslim?" And can a Muslim girl in America ever truly fit in?

ALL-AMERICAN MUSLIM GIRL is a relevant, relatable story of being caught between two worlds, and the struggles and hard-won joys of finding your place.
For the online regtration link, click here.
Date:

Friday, 29 Oct 2021

Time:

2:00 p.m. to 3:00 p.m.

Location:

online

Department:

Muslim Studies Program
Read Event Details
Presenter: Jennifer L. Fluri is Professor and Chair of the Department of Geography at the University of Colorado-Boulder.
This presentation provides an overview of the US-led economic development projects and programs in Afghanistan that focused on increasing
women's education, political and economic participation in society. This overview includes a critical examination of the challenges, opportunities,
and failures of these interventions, and the limited opportunities for women in Taliban controlled contemporary Afghanistan.
Jennifer L. Fluri is Professor and Chair of the Department of Geography at the University of Colorado-Boulder. She is a political geographer interested in gender, geopolitics, international assistance, economic development, and conflict in Afghanistan. She has published over thirty peer reviewed journal articles and book chapters. Her publications also include three co-authored books and one co-edited book. She is the co-author of The Carpetbaggers of Kabul and other American-Afghan Entanglements, published in 2017 by University of Georgia Press as part of the Geographies of Social Justice series. She is one of four co-authors of the 2017 book Feminist Spaces: Gender and Geography in a Global Context published by Routledge, and co-author of Engendering Development: Capitalism and Inequality in the Global Economy. She is also a co-editor of Critical Geographies of Migration Handbook published in 2019 by Edward Elgar Press. Her current research project examines gender, security, and development in Afghanistan with a focus on Afghan women's leadership. This project has been funded by the National Science Foundation. She is the co-editor of the Gender, Feminisms and Geography book series at West Virginia University Press, and she serves on the editorial board for the journal of Political Geography and the journal of Cultural Geography. She received a Fulbright Fellowship in 2020 to examine the experiences of young Afghans seeking higher education in India, and will begin this project in 2022. In Colorado, she codirects the CU-Boulder Affordable Housing Research Initiative (www.colorado.edu/bahri), a community-based service-research project that provides information for individuals and organizations seeking, living in, or caring about affordable housing.
This Supporting Women in Geography (SWIG) event is co-sponsored by the Department of Geography, Environment, and Spatial Sciences, College of Social Science, the Visiting International Professional Program (VIPP), and the Asian Studies Center at MSU. Special thanks to the support from the Center of Gender in Global Context and the Muslim Studies Program.
Virtual lecture. Registration link: https://msu.zoom.us/webinar/register/WN_bIg6y99xSWG0dhDJ369JLA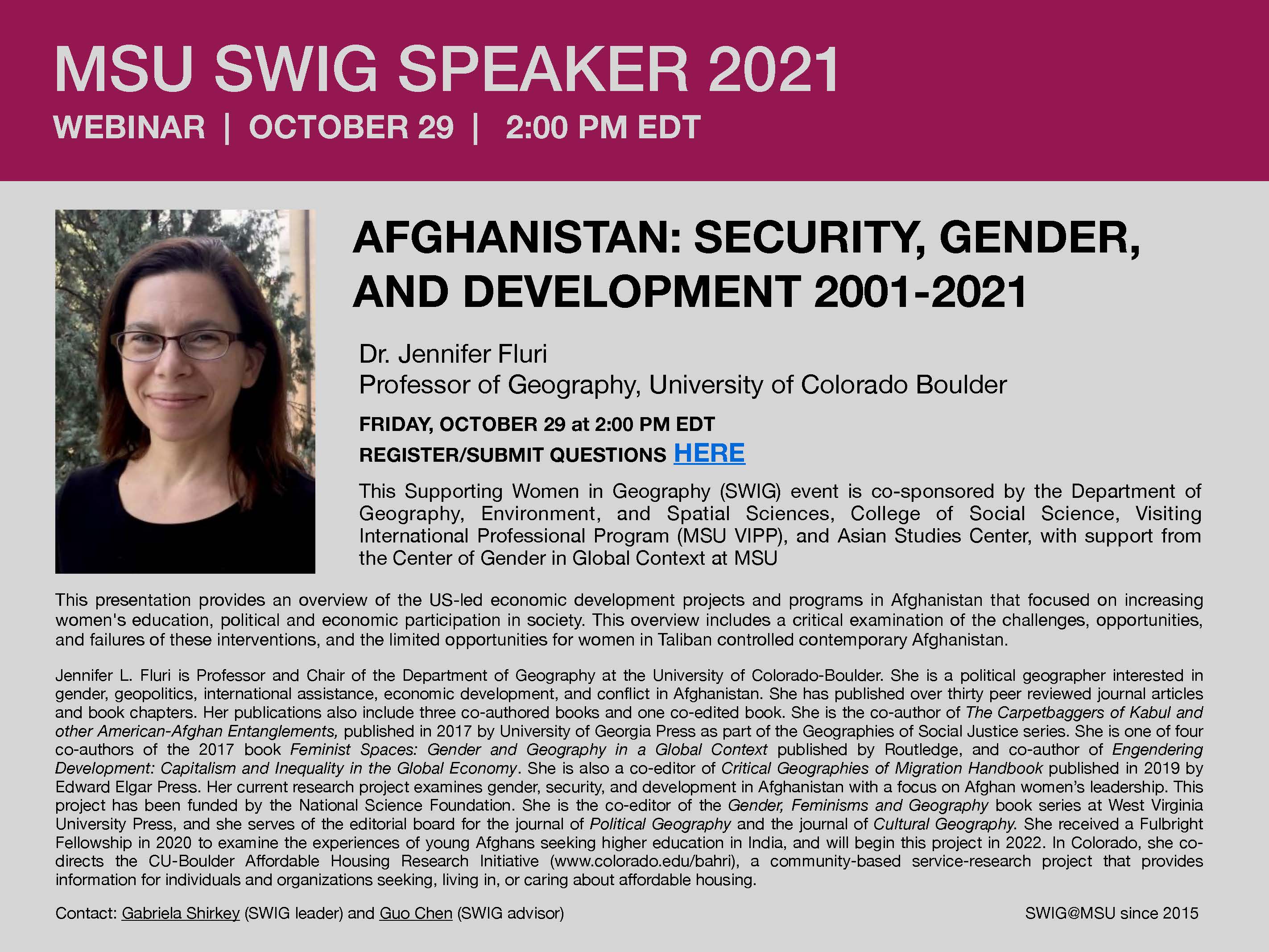 Date:

Friday, 05 Nov 2021

Time:

10:00 a.m. to 11:00 a.m.

Location:

online

Department:

Muslim Studies Program
Read Event Details
Title: 'Opportunity of the Century': India and the Liberation of Bangladesh
Abstract:
This year commemorates the fiftieth anniversary of the liberation of Bangladesh. The year 1971's geostrategic significance for the Indian subcontinent rivals that of 1947 when British India was divided into India and Pakistan. While the roots of Bangladesh's secession from Pakistan lay firmly within the Pakistani polity, India's political support for the Bangladesh freedom movement and its military intervention were crucial for the liberation of Bangladesh. Although humanitarian considerations, especially the influx of close to ten million refugees into India, played a role in India's decision, the major factors determining the decision to intervene militarily in the Bangladesh crisis were political and strategic in character. This presentation by a close observer of the events of 1971 will analyze these factors as well as the decision-making process that led to India midwifing the birth of Bangladesh.

Mohammed Ayoob
University Distinguished Professor Emeritus of International Relations
Michigan State University
Date:

Tuesday, 16 Nov 2021

Time:

12:30 p.m. to 1:30 p.m.

Location:

online

Department:

Muslim Studies Program
Read Event Details
Webinar: Usaama al-Azami (Oxford), "

The Ulama Between Democracy and Autocracy

"
The latest book from Dr. al-Azami considers a relatively understudied dimension of the Arab revolutions of 2011: the role of prominent religious scholars. Professor al-Azami is Departmental Lecturer in Contemporary Islamic Studies at the University of Oxford. He completed his BA in Arabic and Islamic Studies at Oxford, his seminary training at Al-Salam Institute, and his MA and PhD in Near Eastern Studies at Princeton University. He specialises in Islamic political thought.
Date:

Thursday, 18 Nov 2021

Time:

10:00 a.m. to 11:30 a.m.

Location:

online

Department:

Muslim Studies Program
Read Event Details
Speakers: Dr. Riyad A. Shahjahan is an Associate Professor of Higher, Adult and Life Long Education (HALE) at Michigan State University. Ms. Tasnim A. Ema is an undergraduate student at the Department of Anthropology at University of Dhaka, Bangladesh. Mr. Nisharggo Niloy completed his post-graduation from the Department of Anthropology at the University of Dhaka.
Drawing on interviews and participant observations with 22 faculty in Dhaka, Bangladesh, we illuminate how academics experience, contest and manipulate their time(s) amid rapid socio-economic transformations of Dhaka (a mega-city). We aim to decenter the Global North knowledge production about temporality in higher education literature by introducing and applying a culturally sustaining concept of 'shomoyscapes'. While the Bengali word 'shomoy' literally means 'time', it goes beyond 'clock time', and also refers to memories, present moments, feelings, a particular duration, and/or signi􀃶er for a temporal engagement. We demonstrate the efficacy of shomoyscapes by illuminating how faculty in Bangladesh experience various temporal forces, such as: a) traffic, b) university politics, and c) the future of others. We conclude with implications about the complex temporal constraints at work within an urban Global South context and a rapidly growing HE system in South Asia.
Registration link: coming soon